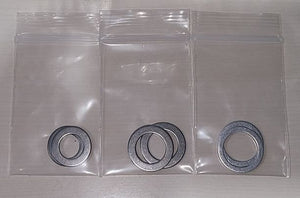 Shim kits are based on the thread size that you ordered. Each shim kit comes with 2 shims for the specific size that you order. 
These shims can be used for when you encounter one of the following situations. 
A rifle that does not have proper relief cut which causes the tuner not to be able to seat properly against the shoulder
An oversized relief cut where you may need a shim or two in order to space your tuner for thread engagement. 
Each shim will add approximately .040 in spacing. If you require shims for the hunting model, please contact us as these shims are for the Competition and XL model only